So last week I attended my first ever fashion show for Toronto LG Fashion Week, Joe Fresh! Joe has come a long way from just being that brand that Loblaws carries, in fact they just opened up their first stand alone store (not in a grocery store) in Vancouver. Hopefully Toronto will be next.
The new spring line did not dissappoint. Surprisingly boy scout badges, Betty Draper dresses, sequins and ankle socks all go together quite nicely. I took some of my own photos on my old-school film camera at the show, but they did not really turn out... I guess for a fashion show, digital is the way to go (I'll remember that for next time). So here are a few quality shots that I took from Fashion Magazine, and maybe one or two of my own crappy shots... just for fun.
The show began with a little video montage of pretty girls and cute boys on bicycles. You can tell this is my photo because of all the heads in the way, but really, 4th row wasn't so bad.
Estonian super model Tiiu Kuik opened the show is this adorable outfit. Note the boy scout badge on her shoulder. Also, Jill and I saw her at the after party. She is 6'1 and completely stunning.
I will be purchasing that dress come spring. And I am loving this burnt red colour with the grey ankle socks.
That shoulder bag is clear... CLEAR! Ladies, don't wear this bag if you plan on carrying tampons, that's all I can say.
From the front, and my view from the side. Boy scout dress and low-heeled pumps. Also note the harness bra trend that I've been seeing a lot of lately.
Tie dye sleeves, what! They had this in bright pink as well.
A nice pair of sequin shorts never hurt anyone.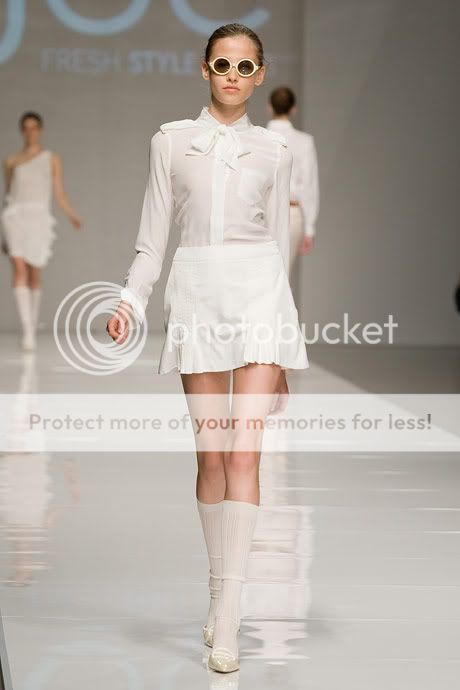 Head to toe white, there were a few looks like this.
I really, really need this shirt.
And my view at end of the show. At this point I was feeling completely elated and thoroughly satisfied.